2016 predictions on cloud adoption from VP Cloud Ops Ken Rothenberger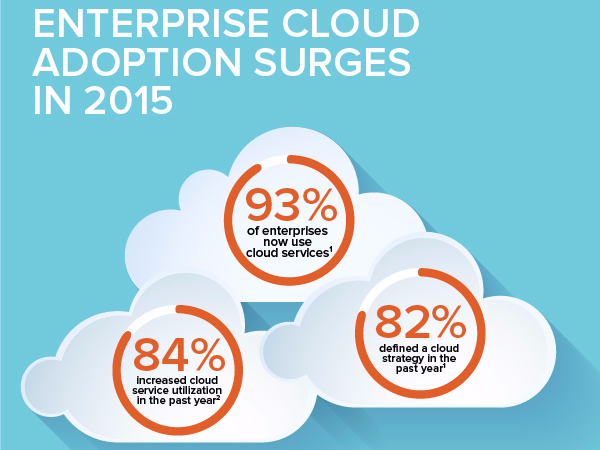 It's 2016, and the tide is finally turning toward the enterprise cloud. After 2014 saw cloud adoption lag behind expectations, 2015 saw 84 percent of organizations increase their cloud usage. Ken Rothenberger, Code42's new vice president of Cloud Operations, talks about the forces driving this shift and what to expect in the enterprise cloud landscape for 2016 and beyond.
Why has enterprise cloud adoption surged in the last year?
The fear of cybercrime and data breach is driving the enterprise toward cloud solutions, which is ironic because it's the same fear cited two years ago as the primary barrier to enterprise cloud adoption. Today, enterprise execs are observing that their infrastructures are less secure than cloud. And as cybercrime becomes commonplace and more sophisticated, they're looking at better options. 
How does the cloud improve security?
Today's cloud-based services are no less secure—and often more secure—than traditional on-premises infrastructure. As more enterprises migrate their data and workloads to cloud services, we'll see more real-world evidence of enhanced data security. In 2015, a Harvard Business Review reported that 39 percent of enterprise executives say cloud services improved data security. The security of cloud services will continue to improve and the inherent agility of cloud platforms will help cloud services adapt to stay ahead of data security threats. Gartner estimates that by 2020, 95 percent of cloud security breaches will be the customer's fault—that is, not the result of vulnerability in the cloud technology itself.
What can we expect for 2016? What trends do you see in the enterprise cloud landscape?
Enterprises will outsource their IT "growing pains" with cloud elasticity. With rapidly changing data demands, traditional infrastructure is just too slow to adapt. IT staff is constantly scrambling to stay ahead of demand—and the enterprise swings between paying for service they don't need and being stuck without sufficient capacity. More enterprises will leverage cloud services to outsource these time-consuming and costly IT "growing pains." Cloud services offer the ultimate in elasticity: the enterprise can scale up quickly (and with minimal IT involvement or cost) and just as quickly turn off a service that is not needed.
Better technology will drive faster cloud productivity. IT hardware will keep getting better—this hardly needs saying. But the key technologies that enable seamless cloud-based productivity (such as solid state drives or SSDs) are getting faster, better and cheaper every few months. This means today's workforce has near instantaneous data access via cloud services—often faster than an employee might experience via on-premises applications. These technology improvements will make a cloud-first approach even more cost effective and efficient in 2016, and beyond.
Virtualized service chains will create robust, comprehensive cloud solutions. We all probably have a cloud application that we love for how it simplifies a specific task in our workflow. The cloud platform is ideal for the development of customized apps targeted at simplifying a specific task. But the future of cloud services lies in linking multiple services or applications together to create virtualized service chains. This ranges from integrating authentication with productivity applications to enable secure, anytime-anywhere productivity, to creating complex solutions for core services like supply chain management. And these new solutions offer that same valuable flexibility and elasticity. The enterprise can choose which functionality they want—and scale up easily—instead of a one-size-fits all package.
Endpoint data backup will become the core element of data security in the enterprise cloud. With cloud services enabling the mobile workforce, more and more enterprise data lives on endpoint devices like laptops, tablets and smartphones. Real-time endpoint backup is more critical than ever for ensuring complete visibility, traceability and integrity of this exponentially growing trove of endpoint data. The exciting part is how enterprises are leveraging this data transparency to go beyond backup with new applications such as advanced forensic capabilities and cost-saving legal holds.
Archive-as-a-service will take off. Adjacent to endpoint backup, archive-as-a-service is emerging as another tool for the enterprise to manage immense amounts of data. Archive-as-a-service enables the enterprise to move large amounts of data into a sort of "cold storage" cloud. The enterprise gets a cheap and efficient way to outsource the storage and maintenance of infrequently accessed data, while ensuring the integrity of that data, should it ever be needed.
Real-world cost savings will create a snowball effect, accelerating adoption. We've been hearing about the potential cost savings from the cloud for so long. But as enterprises move entire service chains to the cloud, we'll start to see the serious proof in the pudding. The Harvard Business Review survey I referenced earlier found that 40 percent of enterprise executives have already seen revenues increase with cloud services. And with cloud security concerns fading, these proven cost savings are going to drive organizations in every industry to jump headfirst into the cloud.
Download The Guide to Modern Endpoint Backup and Data Visibility to learn more about selecting a modern endpoint backup solution in a dangerous world.