Paint it gold: Motivating teams through monthly awards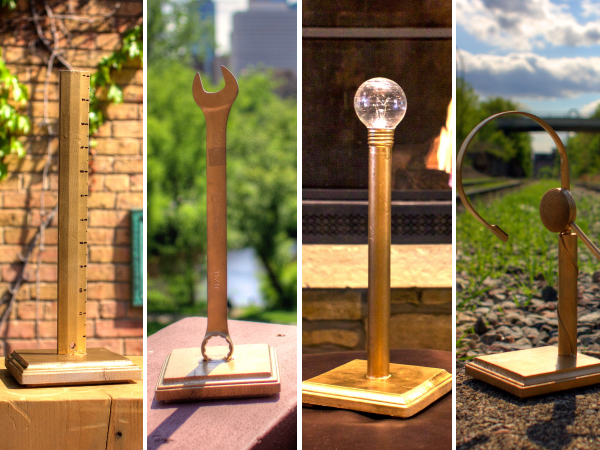 "I see an award, and I want it painted gold," sang Mick Jagger. Well, not exactly those words. But he would have if he were singing about team building. Anyway, the kinds of people that managers most want to attract are those who love to work hard, enjoy solving problems, are effective communicators, and continually hone their craft. Each month at Code42 we award four traveling trophies that represent those cultural principles to four individuals in our product development division. Accompanying these trophies is a $50 gift card that the winners can spend anywhere they like. Recipients are selected by their peers, and we distribute the awards at an all-hands meeting wherein we share why each person was selected.
The Wrench: We work hard in a focused way
Because of the kinds of jobs my parents held throughout my formative years, my collar is still as blue as the sky even though I work in an office. One life lesson I learned from them is that they felt strongly about giving employers their best effort while on the clock. Fortunately, I regularly observe a similarly strong and balanced work ethic in our product teams at Code42. No age group has an exclusive claim to passion for hard work, and Wrench Award recipients have ranged from those starting their careers to the more gray-haired crowd. Our Wrench Award winners prove true our commitment to deliver high-quality software on time, aligned with the priorities of the business. Recently, one of our engineers did some problem solving over a weekend so that everyone arriving on Monday would have existing barriers to productivity removed. No one asked this engineer to do this–it's just a great example of hard work and his dedication to the company and team.
The Light Bulb: We are creative problem solvers
Code42 began 15 years ago and quickly became a consumer-focused company. All of our customers were protecting their home computers. Soon, small companies of just a few employees fell in love with the easy-to-install product they knew would restore their files reliably in the event of a disaster. Ever larger companies followed, and by 2008 massive and very prominent enterprises came to love the reliability, security, and scalability of Code42 CrashPlan and its easy, on-demand self-service file restore. The product has grown from the relatively simple needs of home users to the very sophisticated security and scalability demands of an enterprise with hundreds of thousands of employees. Each day our product managers and engineers approach our customers' feature requests with passion and creativity. For example, the IT and legal departments at our customers' enterprises asked us how Code42 might make the legal-hold process less burdensome to IT and more accessible to legal teams and risk managers. The outcome: a new legal hold feature in the flagship product.
The Headset: We are great communicators
In my experience the biggest challenges in the software industry are not technical. They are usually interpersonal, and I believe we can never work too hard at improving communication. One of my favorite books is Crucial Conversations. When I joined Code42, I purchased dozens of copies for our employees, and I soon saw its principles in action around me. To be successful in any business you need an open, respectful environment where people not only listen, but also speak up! And so the Headset Award represents the need to both speak and listen effectively. For example, in early 2015 one of our product managers set up a meeting with some engineers and our lead architect. He felt very strongly about beginning to invest in a new feature area, but he wisely anticipated that the technical team was going to be rather skeptical about project scope. I watched as he fostered an open dialog, got the team to express their doubts and concerns, and worked with them to address these. Early in 2016 this product manager received a well-deserved promotion partly because he sets a fine example in how to communicate effectively.
The Ruler: We are experts at our craft
Some of the best product-focused people walk in the door every day at Code42. Early in 2015 we pledged to fully adopt the agile method of software development at Code42. We believed it would help us become more efficient, produce higher quality work, and work together in more satisfying ways. To do this we invested in training our employees, hired people who make us smarter, and adopted new ways of working and thinking. It worked, and the results speak for themselves. We are producing more software with higher quality in a timelier fashion. We have a sizeable training budget that we use to help employees develop technical and non-technical skills (like communication). We want people to be growing and learning—not only as employees but also as people—and each month someone really stands out in this area. For example, as product priorities changed last year, the need for the specific skills of one of our developers lessened. Evolving skill misalignments like these are sometimes unavoidable, but this engineer was undaunted and came to the management team and to me and said, "Tell me where you need me, and I'll get up to speed in that area and make a difference." She did just that, and she very soon became a significant contributor to one of our important innovations.
These four awards manifest our culture—hard work, creativity, disciplined communication, and skillful efforts in respective fields of knowledge. Focus on these four principles helps us deliver more value to our customers. We can respond more effectively to support requests, customer wishes, and market shifts. Ultimately, this is possible because of people (awesome people) who earn and deserve these awards time and time again.
Download The Guide to Modern Endpoint Backup and Data Visibility to learn more about selecting a modern endpoint backup solution in a dangerous world.